Biography
Through the New York-based consulting firm he started in 1972, Malcolm Knapp provides counsel to CEOs, strategic planning, quantification of industry trends, forecasting, and marketing research/analysis to clients in the foodservice industry. He is the creator of KNAPP-TRACK™, a monthly sales and guest count tracking report distributed by 61 television markets and 11 regions in the United States; and KNAPPTRACK FLASH™, a weekly report conducted for the United States, California and 20 television markets.
For the past 36 years, Knapp has provided industry forecasts to the National Restaurant Association and also advised the U.S. Census Bureau on segment categorizations. He wrote the new foodservice industry definitions of the North American Industry Classification System for the U.S. Department of Commerce, definitions which replaced the Standard Industrial Classification System in 1997. For the past 20 years, his data has been published in the Statistical Abstract of the United States.
Knapp is quoted regularly on hospitality and economic issues in The New York Times, The Wall Street Journal, Business Week, The Financial Times, Reuters, and Bloomberg. He is also tapped as an industry source for TV and Radio and has given interviews to BBC, FOX, PBS Nightly Business News, Canadian TV, Bloomberg Radio, and NPR. Additionally, he writes a monthly column on current trends in the casual dining market for Nation's Restaurant News, one of the leading publications of the restaurant industry.
Knapp earned a bachelor's degree in science from Columbia University and a master's degree from Harvard Business School, where he specialized in organizational behavior and marketing. He served on the board of Frisch's Restaurants, Inc., for nine years and was the chairman of the food and beverage committee of the Harvard Club of New York City, a member of its house committee and a member of its Board of Managers. He also is a past board member of the Corporation of the Culinary Institute of America and served as vice chair of its long-range planning and nominating committees.
Services
Malcolm Knapp, Inc. provides a variety of consulting services to clients in the food service industry, including:
Counsel to CEOs
Strategic planning
Quantification of industry trends
Forecasting and marketing research
Marketing analysis
Architecture – aligning and maximizing companies' brand equity with both new and re-modeled restaurants
Public relations strategic planning in conjunction with Hacche Communications LLC
Tailored briefings to executive teams on economic and consumer trends to groups on the restaurant industry
Knapp-Track
Since 1991, I have provided KNAPP-TRACK™ for the chain dinner house/theme restaurant market. In 1993, I started providing KNAPP-TRACK:FLASH™, a weekly companion to the monthly KNAPP-TRACK™. KNAPP-TRACK™ monthly data on a USA geographic level only is published monthly with industry analysis in Nations Restaurant News.
KNAPP-TRACK™ is a monthly sales and guest count tracking service for comparable restaurants and separately, for all restaurants monthly over month year ago. The reporting of data is for USA, USA year to date, the USA broken into 11 regions and 61 ADI TV markets.
KNAPP-TRACK:FLASH™ is a weekly sales and guest count tracking service, reporting comparable restaurant data. The reporting of data is for USA, California and 20 ADI TV markets.
KNAPP-TRACK™ monthly data on a USA geographic level only is published monthly with industry analysis in Nations Restaurant News.
Current subscribers account for over $32.1 billion in sales and over 10,400 restaurants. See attached list for current subscribers. Our subscribers account for over 87.8% of the dollar volume of the 47 casual dining chains in NRN top 100 and second 100.
APPROACH: The highest quality of data for sales and guest counts is obtained from the headquarters of a chain or franchise system organization. I collect the data directly from the subscriber/participants, via e-mail. Only those chains who provide data will get data.
CONFIDENTIALITY: I am the only person who will see and work with your data. Your data is held in the strictest confidence. This is a key issue for you and it distinguishes us from all other organizations.
QUALITY CONTROL: Since I do all the data processing. I am able to spot and correct errors. I know the data and what to look for. Our accuracy is at the highest level.
REPORTS: The reports show for the competitive set of participants, all combined data percentage changes month over month year ago for all defined geographies. No individual chain data is shown. In addition, for each month, there is a report, which, on one sheet of paper, will show all the regional geographies and the month over month percentage changes, so you can see and compare differences in geographical performance at a glance. This single page is e-mailed each month with a set of reports. There is also a U.S.A.-level year-to-date report and quarterly reports on a year-to-date basis.
KNAPP TRACK™ DASHBOARD: "An interactive analytical tool to provide digital snapshots of key performance indicators" designed to streamline and deliver all of the key data in a user-friendly format. Provides snapshot views of current period and historical trends of Region and TV Market data with the ability to customize views by selecting the 'key performance indicators'. The snapshots show the data in graphs and numerical tables in the same view. The Dashboard also encourages viewers to create custom graphs comparing key performance indicators including 'GAP To KNAPP™' on a single or dual Region and/or TV Market basis. You can also use the dashboard as a tool to customize your PowerPoint presentations. With a simple click, you can screenshot graphs and data right onto your PowerPoint slides.
Click here to view the main menu of the KNAPP-TRACK™ Dashboard and the options available.
GEOGRAPHIES: The geographic scope for the monthly KNAPP-TRACK™ report consists of the United States (excluding Alaska and Hawaii) and 11 additional geographic breakouts designed for the greatest chain restaurant concentrations and to be comparable with the nine U.S.A. Census regions while having enough data points to be statistically robust. Three states are regions (California, Texas, and Florida) as they have very high concentrations of chain restaurants. The other eight regions are census regions without the three states.
Click here for a separate sheet showing the state composition of the regions and the ADI TV markets.
The monthly Knapp-Track™ geographic reporting areas are:
UNITED STATES (excluding Alaska and Hawaii)
01 – CALIFORNIA
02 – PACIFIC NORTHWEST: Oregon, Washington.
03 – MOUNTAIN: Arizona, Colorado, Idaho, Montana, Nevada, New Mexico, Utah, Wyoming.
04 – TEXAS
05 – WEST NORTH CENTRAL (PLAINS): Iowa, Kansas, Minnesota, Missouri, Nebraska, North Dakota, South Dakota.
06 – EAST NORTH CENTRAL: Illinois, Indiana, Michigan, Ohio, Wisconsin.
07 – EAST SOUTH CENTRAL and balance WEST SOUTH CENTRAL REGION: Alabama, Kentucky, Mississippi, Tennessee / Arkansas, Louisiana, Oklahoma.
08 – FLORIDA
09 – SOUTH ATLANTIC: Delaware, D.C., Georgia, Maryland, North Carolina, South Carolina, Virginia, West Virginia.
10 – MIDDLE ATLANTIC: New Jersey, New York, Pennsylvania.
11 – NEW ENGLAND: Connecticut, Maine, Massachusetts, New Hampshire, Rhode Island, Vermont.
To reflect the diverse results of comparable restaurants due to geography and differential weather we offer 20 ADI TV markets in the KNAPP-TRACK: FLASH™ weekly report series. The markets are:
01 – ATLANTA, GA
02 – BOSTON, MA
03 – CHICAGO, IL
04 – CLEVELAND,OH
05 – DALLAS-FT. WORTH, TX
06 – DENVER, CO
07 – DETROIT, MI
08 – HOUSTON, TX
09 – LOS ANGELES, CA
10 – MIAMI, FL
11 – MINNEAPOLIS, MN
12 – NASHVILLE, TN
13 – NEW YORK CITY, NY
14 – ORLANDO, FL
15 – PHILADELPHIA, PA
16 – PHOENIX, AZ
17 – SAN FRANCISCO, CA
18 – SEATTLE, WA
19 – TAMPA-ST. PETE, FL
20 – WASHINGTON, DC
These markets represent about 46% of KNAPP-TRACK™ dollar volume.
The ADI TV Markets currently being reported are:
01 – ALBUQUERQUE, NM
02 – ATLANTA, GA
03 – AUSTIN, TX
04 – BALTIMORE, MD
05 – BIRMINGHAM, AL
06 – BOSTON, MA
07 – CHARLOTTE, NC
08 – CHICAGO, IL
09 – CINCINNATI, OH
10 – CLEVELAND, OH
11 – COLORADO SPRINGS, CO
12 – COLUMBUS, OH
13 – DALLAS, TX
14 – DENVER, CO
15 – DETROIT, MI
16 – FT. MYERS-NAPLES, FL
17 – GRAND RAPIDS, MI
18 – GREENSBORO, NC
19 – GREENVILLE-SPARTANBURG, SC
20 – HARLINGEN, TX
21 – HARRISBURG, PA
22 – HARTFORD & NEW HAVEN, CT
23 – HONOLULU, HI
24 – HOUSTON, TX
25 – INDIANAPOLIS, IN
26 – JACKSONVILLE, FL
27 – KANSAS CITY, MO
28 – KNOXVILLE, TN
29 – LAS VEGAS, NV
30 – LOS ANGELES, CA
31 – LOUISVILLE, KY
32 – MEMPHIS, TN
33 – MIAMI, FL
34 – MILWAUKEE, WI
35 – MINNEAPOLIS, MN
36 – MOBILE, AL
37 – NASHVILLE, TN
38 – NEW ORLEANS, LA
39 – NEW YORK CITY, NY
40 – NORFOLK, VA
41 – OKLAHOMA CITY, OK
42 – OMAHA, NE
43 – ORLANDO, FL
44 – PHILADELPHIA, PA
45 – PHOENIX, AZ
46 – PITTSBURGH, PA
47 – PORTLAND, OR
48 – PROVIDENCE-NEW BEDFORD, RI
49 – RALEIGH-DURHAM, NC
50 – RICHMOND, VA
51 – SACRAMENTO, CA
52 – SAINT LOUIS, MO
53 – SALT LAKE CITY, UT
54 – SAN ANTONIO, TX
55 – SAN DIEGO, CA
56 – SAN FRANCISCO, CA
57 – SEATTLE, WA
58 – TAMPA-ST. PETE, FL
59 – TULSA, OK
60 – WASHINGTON, DC
61 – WEST PALM BEACH, FL
Click here for a sample of the monthly KNAPP-TRACK™text report.
If you have any questions call or email. The phone number is 212-831-7200. The cell phone number is 917-892-6719. Or email Malcolm Knapp.
2006.09.24
DOW JONES NEWSWIRES
DES MOINES, IOWA
Restaurants' Vulnerability To Higher Gas Prices Debated
By Richard Gibson
(Dow Jones)—Investors worried that soaring gasoline prices will cause consumers to eat out less depresse… CLICK TO READ FULL ARTICLE
2006.09.25
Financial Times
Unhappy days for U.S. family restaurants
By Paul Sullivan in New York
The American family restaurant is starving. Casual restaurants have supplanted family restaurants in terms of revenu… CLICK TO READ FULL ARTICLE
2006.10.13
Business Week Online
Yum! Growth with Global Flavor
by Marc Hogan
Nothing whets Wall Street's appetite like a positive earnings surprise. On Oct. 11, Yum! Brands (YUM) reported a 12% jump in third-quar… CLICK TO READ FULL ARTICLE
Dip in Gas Prices Helps Consumers, Hurts Investors
by Scott Horsley
BP is pumping oil again from the eastern half of Prudhoe Bay. The giant Alaskan oil field had been partially shu… CLICK TO READ FULL ARTICLE
2007.01.26
BusinessWeek Online
"Your Waiter Today Will Be a Computer"
by Kerry Miller
Imagine a restaurant for the Instagram generation—one that doesn't force diners to leave behind their digital life when they step out… CLICK TO READ FULL ARTICLE
The New Brew
By Kate Novack
It's a warm day in April, and the private dining room at Gramercy Tavern, one of New York City's top restaurants, is set for a tasting. Kevin Garr… CLICK TO READ FULL ARTICLE
Food chains roll out tastes of the season
By Bruce Horovitz
Many shoppers have visions of sugar plums dancing in their, ah, stomachs. Few know that better than fast-food retaile… CLICK TO READ FULL ARTICLE
2007.01.26
BusinessWeek Online
T.G.I. Fridays Finds Smaller Portions Add to Customer Traffic
By Andrew Martin
Four months after it introduced smaller portions to its menu, T.G.I. Fridays is finding tha… CLICK TO READ FULL ARTICLE
Starbucks going back to grinding beans
By Bruce Horovitz
Starbucks customers soon can take a deep breath. Coffee again will be freshly ground and scooped… CLICK TO READ FULL ARTICLE
2008.01.07
Nation's Restaurant News
Having words with: Malcolm M. Knapp
By Paul Frumkin
Malcolm M. Knapp has predicted a lot of trends over the years. Since 1972 he has worked with the National Restaurant… CLICK TO READ FULL ARTICLE
2008
Keep calm and carry on.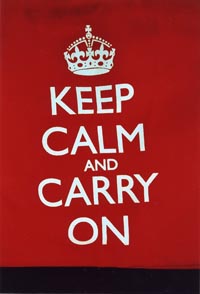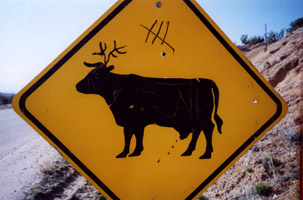 2006
The restaurant business is simple…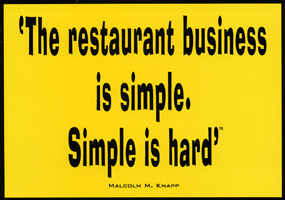 2006
Some advice from New York's bravest.